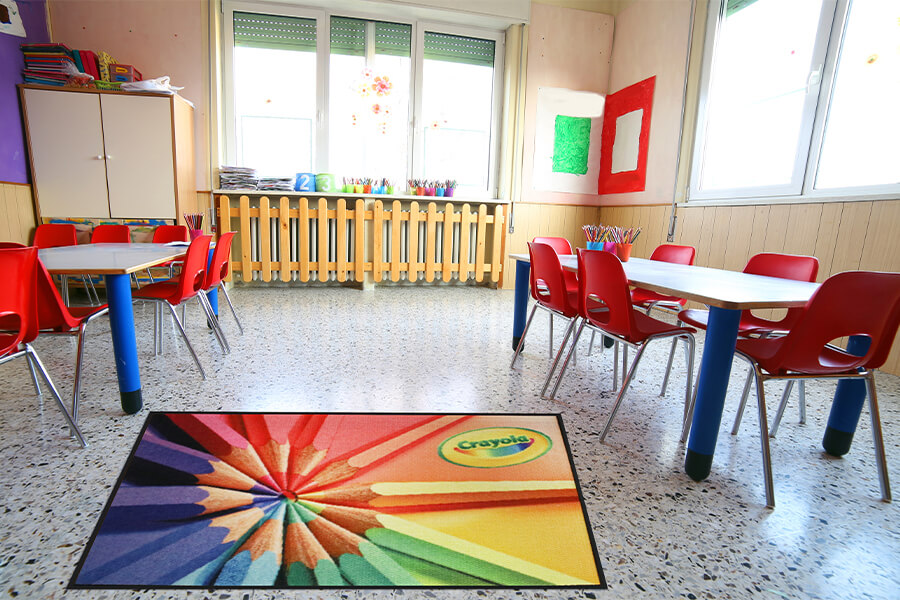 Logo mats that move around can sometimes become a common problem, especially in entrances where often a large door is deployed on the carpet. That leaves many wondering what it takes to stop these rugs from moving on carpet or any type of internal flooring. But as stressful as it might seem, this should never be the underlying reason behind your woes.
With a little help from experts, be rest assured you can get through it without feeling the heat. And that's what this simple guide will help uncover today. We have put together some of the options explaining how to stop rugs slipping on carpet for concrete floors and keep your custom logo mats securely in place.
Reasons Your Mat Keeps Moving
It is normal for mats and rugs to move and creep when placed on top of a carpet due to the actual carpet pile underneath. Considering the carpet is not solid enough, when someone walks on your mat, the carpet will move and so the matting on top won't stay in place.
This movement can occur regardless of the size of your mat or rug and even with the weight of an extra-large floor mats or runs. Smaller mats tend to be troublesome and showcase the most drifting. The good news is you can prevent this problem without pushing yourself to the limit.
How to Stop Mats Slipping
You don't have to be a pro to stop your logo rug from moving in your property. Simply employ the tips below to stop mats slipping and provide a stable surface for visitors to clean their shoes.
Mat Quality and Rubber Backing
Before delving deeper into our discussion topic today, we first need to factor in the quality of the mat and the backing used. However, this is often where the problem emanates from. In most cases, cheaper products have a lightweight backing that can increase the risk of roaming. Logo mats with the least amount of movement are often heavy-duty and rubber backed with a nitrile.
Consider Mat Wells
You should also consider purchasing mat wells as they can create a great look at the entrance of a building and look very professional. They're definitely worth spending money on since they prevent any issues with entrance mats moving or slipping. They also prevent an entrance mat from folding at the corners since they're recessed into the floor so it will remain secure at all times.
Use an Underlay
To get the most from your custom logo rugs from Ultimate Mats and prevent them from moving, we recommend purchasing a non-slip door mat underlay. There are two options to go with, one for carpet and the other for hard areas. Grip tape or grip underlay can be applied to the back of mats to go onto the carpet.
Sticky pad underlay, on the other hand, can be applied to make anti-slip mats for tiled or hard surfaces. For both methods, be sure to position the tape or pads to the back of the mat and then place on the desired section of hard floor or carpet.